Niall Farrell
Niall Farrell is the Managing Partner of the firm and qualified as a Solicitor in 1988.  He has been a motorcyclist for many years and knows well the dangers that bikers face on the road. He practiced for a time in London specialising in litigation.
Niall was for many years a member of the Council of the Law Society of Ireland, was chairman of many of its committees and is a member of the Incorporated Council for Law Reporting in Ireland. He is also a member of the Courts Martial Rules Committee and sits as a chairman on Mental Health Tribunals and is an Adjudicator on the Private Residential Tenancies Board.
He has written articles for newspapers and has appeared on national radio and television.
Niall has years of experience representing clients in motorcycle accidents and disputes and knows that these cases require a strong and knowledgeable team that will look after the biker's interests.
Niall's experience and research of motorbikes tells him that for the most part, the motorcyclist is not at fault.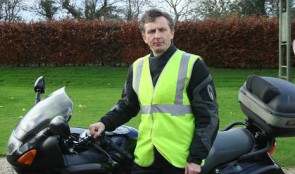 "Niall is a consumate professional, a phrase often quoted but rarely experienced. In this case however, it applies"
F.F. Co. Dublin
Helen Coughlan
Helen Coughlan is a partner and qualified as a Solicitor in 2004, having studied in UCC and obtained a first class honours BCL degree. She trained with Matheson Ormsby Prentice, Solicitors in Dublin.
Helen specialises in personal injury litigation and works with Niall in cases where motorcyclists have been injured in an accident. Helen has an excellent reputation for her fast and efficient service and is very experienced in managing personal injury cases.
An injury can be a life changing event for a biker and Helen knows that her job is to run your case as smoothly as possible, keeping you informed at every turn, so that you can concentrate on your recovery.
 "Overall I found Helen excellent. I was kept up to speed with my case at all times. I thought I was dealt with in a professional manner and very efficiently."
T. L. Co. Galway
Evelyn MacKenzie-Smith
Evelyn Mackenzie-Smith is also a partner and qualified as a solicitor in 1983 having studied in UCD. She has practised in litigation and is part of our probate team, drafting wills as well as dealing with the administration of estates after death.
While it is not something that every biker likes to think about, it is prudent to sort out your legal affairs in case there ever is a serious accident. Evelyn will help you draft your will so that you get to decide what happens after you die, not a court. She will also help you set up an enduring power of attorney which will allow somebody else to deal with your legal affairs on your behalf should an injury prevent you from doing so yourself.
Evelyn has obtained a certificate in "Capacity, Mental Health and the Law" from the Law Society of Ireland which enables her to advise the families of an injury victim where they are not capable of looking after their legal affairs.
Finally, while the numbers are falling, it is an unfortunate fact that motorcycling is a dangerous activity and has a high level of fatalities. In the event fatal injuries, Evelyn will help a family adjust to their legal situation. Legal worries are the last thing a grieving family needs.
 "The service was very professional and courteous, but Evelyn was also very warm and empathic, making a very painful situation somewhat easier. Every effort was made to accommodate my needs and my wishes. My ideas were listened to and no decisions were ever taken out of my hands. Evelyn was very warm and professional."
Y. M. Co. Dublin
Elaine McCormack
Elaine McCormack qualified as a solicitor in 2010 having studied in NUI Maynooth. Her work involves property sales/purchases, probate and litigation.
Elaine works with Helen and Niall in motorcycle litigation and assists Evelyn in administering an estate where there has been a death, particularly where there are property transactions. Elaine comes highly recommended by clients for her prompt service and for the fact she is always readily contactable.
"Elaine was very accessible throughout and this was a source of comfort to us that someone shared our frustrations! Good empathy with client's anxiety shown in particular. Very good service indeed."
R. O. Co. Kildare
Our team approach means that there is always someone you can speak to about your case, even if one of our solicitors is tied up in a meeting. It means that we get the work done faster and more efficiently than other firms.
For any kind of motorbike query don't hesitate to call us on 045 431542 for an opinion of your case. You can also email us at info@motorbikelaw.ie or use our "Evaluation of your Case" link at the top of this page and we'll get back to you.
* In contentious business a solicitor may not calculate fees or other charges as a percentage or proportion of any award or settlement.